About this course
This course is designed to cover the essential, core aspects of a believer's walk of faith. Starting from the very basics, we cover several important truths necessary to help nurture you into a disciple of Jesus Christ. Every believer must do this course at least once in their lifetime. Be established in foundational truths and Biblical practices that will stay with you for the long haul. If you have never done this course, get started right away!
What you'll learn
The nature of God
Salvation
Assurance of salvation and forgiveness
Overcoming temptation
Prayer
Praise and worship
God's Word
The local church
The sacraments of the church
In Christ
The Holy Spirit
Faith
Financial stewardship
Fulfilling God's purpose for your life
Get your certificate
The FOUNDATIONS course is a free, self-paced learning course. You can start this course any time and complete it at your pace any time. You will do short knowledge-check questions (simple, multiple-choice and objective-type questions) as you progress through the lessons. Once you complete this course, you will receive a digital copy of your course completion certificate. It is a great way to show your peers and spiritual leaders that you have a good spiritual foundation and are ready to serve and assist them in the work of the ministry.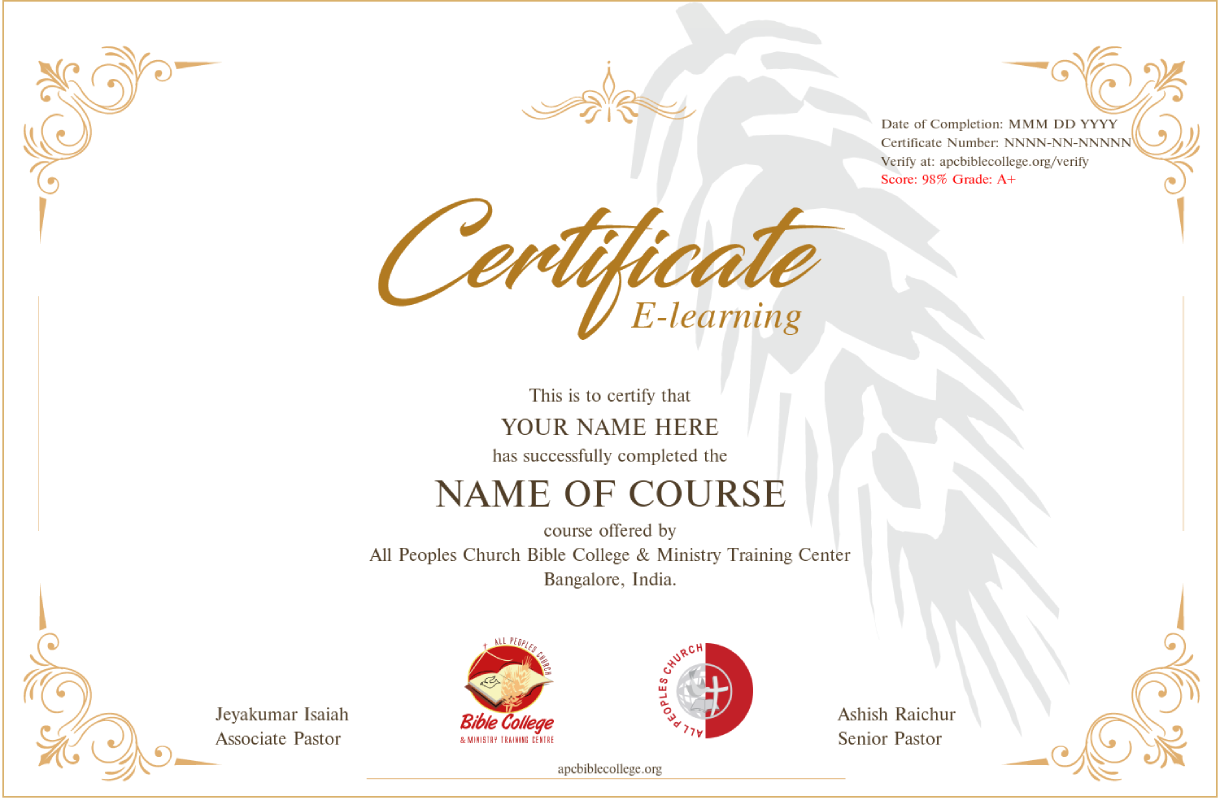 Meet your instructor

Ashish Raichur
Senior Pastor, All Peoples Church & World Outreach, Bangalore
Frequently asked questions
What web browser should I use?
The Open edX platform works best with current versions of Chrome, Edge, Firefox, Internet Explorer, or Safari.
Can I view the course offline?
No. To view the course content, you need an active internet connection.
Can I pause in between a lesson, log out, and continue at a later time?
Yes. You can pause in between a lesson and log out. When you log back in the next time Open edX will take you right back to where you left and you can continue your lesson.
What is the difference between "Self-paced" and "Instructor-led" courses?
In self-paced courses, all the course content is available as soon as a course is released. They do not have a fixed schedule for assignments, so you can complete the course at your own pace. In instructor-led courses, the course content is released at specific intervals as the course progresses. They have a fixed schedule. The course team sets specific due dates for assignments and exams, and you complete the course within a defined time frame.
How is the FOUNDATIONS course graded? Do I have to write an exam to get my certificate?
The FOUNDATIONS course is graded based on simple, objective-type questions. You will be required to take a graded quiz at the end of each module. To earn a certificate, you must achieve a cumulative score of 50% or higher.
Will I be able to ask my questions and clear any doubts I have, while doing this course?
Yes. There is a discussion board where you can post questions. You can also view questions asked by other students and engage in discussions. APC Staff will respond to your questions.
Will completing the FOUNDATIONS course earn me credits that I can transfer to APC Bible College or elsewhere?
No. The FOUNDATIONS course is purely for your spiritual growth and nurture and is not part of the APC Bible College curriculum and hence does not earn credits at APC Bible College or elsewhere.
Which version of the Bible should I use?
While you are welcome to use the version you are most comfortable reading, we recommend using the New King James Version of the Bible.