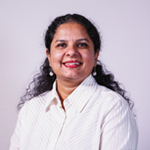 Selina Macwana
Associate Minister – Teaching and curriculum development, APCWO, Bangalore
Selina Dorothy Macwana holds a Bachelor of Divinity degree from Union Biblical Seminary, Pune. She worked as chaplain in a school, and also worked as an editor where she complied and edited a book on the leadership traits of Old Testament characters.
For 5 years she ministered with an organization where she initiated a project which equips teenagers in schools in Bangalore and in India with Godly values.
At APC, she Pastored the School Outreach Ministry, Catalyst. She wrote the curriculum, introduced the project in schools in Bangalore, trained Catalyst volunteers and staff and taught the curriculum in schools. Selina has a passion to share the gospel with children in schools, so they will have a personal relationship with Jesus their Saviour. In 2010 she also took on the role as Pastor of the Children's Church.
Presently she continues to develop new, fresh and relevant curriculum for children/teens for Children's Church and for Catalyst.
Credentials
April 2000 – Bachelors degree in Divinity
Union Biblical Seminary, Pune, India